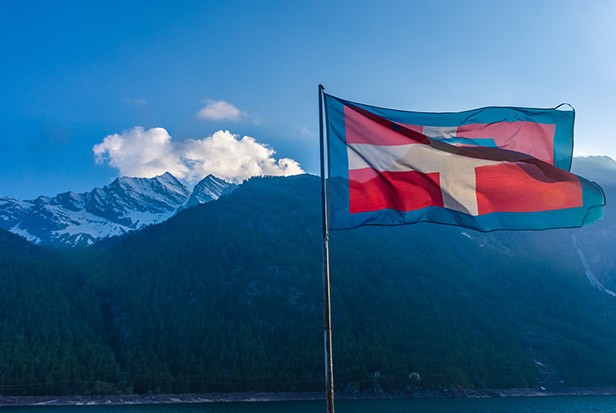 Piedmont
Piedmont (Piemonte in Italian) is the second largest of Italy's 20 regions, after Sicily. It has an area of 25,402 sq.km (9,808 sq mi) and a population of about 4.6 million. The capital Turin (Torino) is a beautiful and fascinating city. There are grand covered walkways, royal Palaces, stunning Baroque architecture, amazing art galleries and world class museums. The political movement for the unification of Italy started here and was briefly the capital of the unified country.
This beautiful region is surrounded on three sides by the Alps, including Monte Bianco (Mont Blanc) and Monviso, where Italy's longest river, the Po rises. It borders with France, Switzerland and the Italian regions of Liguria (the Italian Riviera), Aosta Valley (great for skiing in winter), Lombardy and Emilia Romagna. The Lakes of Maggiore and Orta are also located here and Lake Como is just over the border in Lombardy!
Piedmont is the greatest wine growing region of Italy. More than half of its 700 sq. km (170,000 acres) of vineyards are registered with DOC or DOCG designations and UNESCO has recently awarded World Heritage Status to the three main wine growing regions: Langhe, Roero and Monferrato, which are located around the towns of Asti and Alba in southern Piedmont.
These regions produce some of the best and most famous wines in the world including; Barbaresco, Barbera, Arneis, Moscato d'Asti and 'The King of Wines' Barolo. There are also other great wine regions in Piedmont such as Gavi to the South East and Gattinara in the North West.
Piedmont also has some of the best restaurants in the world, which use the highest quality local food products to make unique dishes such as; Vitello tonnato, Bagna Cauda and Agnolotti. Piedmont is also home to the rare and precious White Truffle, which can be found around Asti and Alba from September to December. It is here that the 'Slow food' movement originated in the town of Bra. The famous Ferrero Rocher factory is located in Alba, where they make chocolates and Nutella from the local "IGP' hazelnuts, which is exported to countries all around the world.
Come and explore Piedmont with us for an unforgettable experience of food, wine, beautiful landscapes and a unique and rich culture - SALUTE!
BACK